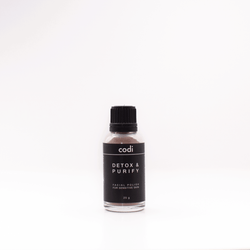 Facial Polish - Travel Size
25g Codi Facial Polish Bottle
A finely-milled polishing powder rich in antioxidants formulated with natural and organic exfoliants to gently polish and clarify the skin. 
This gentle exfoliant combines the power of organic brown rice powder, Australian clays, rhassoul clay, hibiscus and flower petals to resurface your face and leave your skin feeling clear & brand new.
This facial polish draws impurities out of the skin and works on your face to reveal smoother, clearer and softer skin after your first use and it'll only get better from there. It unclogs pores, removes blackheads and keeps breakouts at bay and leaves your skin with a rich, healthy glow.
THE CODI SKIN PROMISE
Brown Rice Powder*, Australian Pink Clay, Australian White Clay (Kaolin), Rhassoul Clay, Hibiscus*, Rose Petal Powder*
*Certified Organic
Safe for sensitive skin types
Draws out impurities and detoxifies
Australian pink and white clays draw out toxins and debris while reducing the appearance of pores
Rhassoul clay nourishes the skin and assists in the removal of acne and pimples
Organic brown rice powder softens the skin
Hibiscus boosts collagen and evens skin tone
Flower petals contain antioxidants that soothe and brighten complexion
Carefully selected ingredients that is safe for sensitive skin types
Pour a small amount into hand
Add water or floral toner to reach desired paste consistency
Apply in circular motions to dampened skin
Leave on for 5-10 minutes to achieve the benefits of a mask
Rinse with warm water
Facial Polish - FULL SIZE
This product is absolutely amazing on the skin and leaves you feeling fresh, I definitely loved the feeling of having smooth skin. During the pandemic we have had to wear face masks all day at work and with that comes a lot of sweat and breakout, but with the Codi facial polish any breakouts that have occurred were easily recovered and leaving my face feeling amazing again. Thank you Camille for this amazing product xx
We tried codi for almost a week now and have some feedback on what we noticed. Swelling or redness on pimples reduced after one use it helps with exfoliating dead skin without over scrubbing… noticed that it helps in restoring the skin's glow.
Such a good product highly recommend.
I love the face polish. I've only used it once but my face was feeling so smooth even into the second day!
Loved the consistency and the exfoliation!! My face felt so smooth after without feeling tight or dry!!