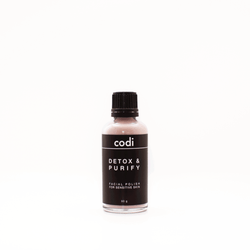 Facial Polish - Full Size
50g Codi Facial Polish Bottle
A finely-milled polishing powder rich in antioxidants formulated with natural and organic exfoliants to gently polish and clarify the skin. 
This gentle exfoliant combines the power of organic brown rice powder, Australian clays, rhassoul clay, hibiscus and flower petals to resurface your face and leave your skin feeling clear & brand new.
This facial polish draws impurities out of the skin and works on your face to reveal smoother, clearer and softer skin after your first use and it'll only get better from there. It unclogs pores, removes blackheads and keeps breakouts at bay and leaves your skin with a rich, healthy glow.
THE CODI SKIN PROMISE
Brown Rice Powder*, Australian Pink Clay, Australian White Clay (Kaolin), Rhassoul Clay, Hibiscus*, Rose Petal Powder*
*Certified Organic
Safe for sensitive skin types
Draws out impurities and detoxifies
Australian pink and white clays draw out toxins and debris while reducing the appearance of pores
Rhassoul clay nourishes the skin and assists in the removal of acne and pimples
Organic brown rice powder softens the skin
Hibiscus boosts collagen and evens skin tone
Flower petals contain antioxidants that soothe and brighten complexion
Carefully selected ingredients that is safe for sensitive skin types
Pour a small amount into hand
Add water or floral toner to reach desired paste consistency
Apply in circular motions to dampened skin
Leave on for 5-10 minutes to achieve the benefits of a mask
Rinse with warm water
#AMUSTHAVESKINRESET
I am a healthcareworker working shift work, busy mom with 3kids and my go to skin care routine is almost next to nothing so…
- first and foremost - i always look for products that weren't time consuming with easy steps and instructions!
- love the pour and add water to the consistency you would want! no dipping your fingers in or using special little spoons!
- never liked masks because i found it messy -- but THIS MASK is not messy, not drippy, and not flakey!
- only needed a thin layer to give a mask effect and i was suprised on how it clung onto skin without the messiness of it all! so props to no need for special robes or towels around your neck for residue or dry bits falling and messing up your sink! have 3kids so to be able to have this on and still walk around was a +++ for me =)
- finally - i wasnt sure what "polish" effect was until i washed it off and wow!! face was nice and smooth, not dried out at all and gave it a soft feel and my face looked a lot brighter!
- im a healthcare worker and wear n95 for 8-9 hours and the moist around my face and breakouts have surfaced! and using this product has prevented further breakouts!
-will continue to use this essential easy skin care routine! amazing product versatile, amazing and easy to use for working moms with 3kids!
- I am all go for SIMPLE & EASY! absoulutely love it!
My go to face polish
I did not expect my face to feel so soft and smooth after the first use. I had to refrain myself from constantly touching my face. Been using it twice a week for 3 weeks now and it's become part of my skincare routine. Thank you for making an amazing product and one that's affordable too.
Best product I've used
By far the best facial product I've used. Is so easy to put on and not messy at all to take off. Leaves my skin feeling so smooth and looking so youthful. I'm obssessed!!
Codi Skin is #1! I've been using it for almost 3 months and with the hot weather, it is really good when you use it, you feel fresh! And my skin is really super clean and exfoliated. I highly recommend! Say goodbye to pimples.
My thoughts about the product:
- I love that it is enclosed in a bottle with a water resistant label. It has this typical powdery scent that other clay masks have.
- Tried mixing it with water & I DID A PATCH TEST FIRST. You can watch the IG TV Video that I've prepared.
- I wore it for five minutes only. No drying effect or breakouts after the wear.
- Honestly, I'm not a fan of clay mask, but this face polish is very interesting. I would want to finish the bottle up to achieve the resuts it aims for. However, I'm loving this product. Gotta do more clay masking soon!
#FeedThyFaceLovesSkincare